PhD. in architecture
Like some national higher schools of architecture, ENSA-Marseille has been allowed to give the PhD grade in architecture since the decree of June 30, 2005, on the basis of a "Research training through research" within a doctoral school. Thus, ENSA-M is associated with the École Doctorale 355 (Doctoral School) "Spaces, Cultures, Societies" accredited by AMU (Aix-Marseille University). Architecture has been recognised as a discipline by ED-355.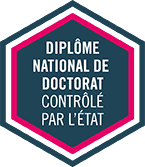 Objectives : to prepare future teachers-researchers of architecture schools for this thinking and innovative ability that structures research. The architects, in order to start teaching via the national competitive examination of recruitment, must have, in addition to their diploma, a doctorate. The doctoral training also comes within the perspective of a strong links development between research and profession.  One of the stakes of the future practitioner is to be able to face complex issues caused by the evolution of society and those within the living environment not only with know-how, but also with a thinking and innovative ability.
Educational contents : The preparation of the doctorate is done within three years and no interruption is tolerated. PhD students are followed individually by a director of doctoral studies, accredited within the ED-355 — and by one or more co-directors. This management is organised within the school research units. PhD  students are obliged to follow a minimum of 120 hours of courses spread over the three years of the cycle, among which, 60 hours through two yearly meetings: the doctoral seminar 1 or "status of thesis" – in November and the doctoral seminar 2 or "Colloquium and article" – in April. Furthermore, PhD students must follow 60 hours of courses in a field of their choice. These courses can be offered by the ENSA-M, ED-355 or any other higher education training, in agreement with ENSA-M. However, scientific English courses are recommended.
Diploma : The doctorate is subjected to an oral examination of thesis (viva voce defence) in front of a jury composed of at least half of external well-known figures to ED-355 and ENSA Marseille. The oral examination is public. After deliberation, the jury delivers admission or postponement of the PhD degree in Architecture.
************
Registrations : Academic requirements
Case n°1 : A registration for PhD is possible if the candidate was awarded one of the following degrees :
– a State Architect's diploma with a major in Research ;
– a State Architect's diploma and a research master or a DEA ;
– a DPLG* architect's diploma and a research master or a DEA (*Government certified architect).
 Case n°2 :  A registration for PhD is conceivable if the candidate should possess :
– a proven research experience ;
– et est titulaire :
a State Architect's Diploma without major in Research ;
or a DPLG Architect's Diploma.
He/she will have to provide, in addition to the parts requested below, a list of the work carried out, a presentation of field experiences : studies, research reports, summaries, articles, publications, etc…., as well as a cover letter.
Case n°3 : A registration for PhD is not possible if the candidate should only possess :
– a French or foreign State Architect's diploma or a DPLG Architect Diploma without any major in research or qualification for research, nor DEA.
He/she is invited to follow a one-year research course at ENSA-M or at another school or university.
Case n°4 : A registration for PhD with a special dispensation is possible :
– if the candidate was awarded a master's degree in research or a DEA
– OR holds any other 3rd cycle diploma whose discipline is not architecture.
The applicant may request a special dispensation and must provide, in addition to the documents requested below, a cover letter explaining that his/her initial training is linked to an area related to architecture (e.g.: landscape, town planning, engineering, design…) and present in an accurate and detailed way the relevance of its subject matter in the architectural discipline.
Mandatory documents to provide for any registration :
An attestation of success of the diplomas obtained (or certificate) ;
A university curriculum vitae ;
A photo ID ;
The research project (a document of approximately 5 pages) with a research question, a development plan of work, as well as a bibliography related to the subject ;
Financial resources and means to develop the thesis within 3 years ;
Acceptance of the director of the laboratory in which the thesis will be prepared ;
A motivated report of a thesis director Accredited to Direct the Research (Habilité à Diriger la Recherche = HDR) within the school of architecture  (Jean-Lucien Bonillo ou Stéphane Hanrot).
In addition, for the foreign diplomas :
Certified copies of diplomas from the baccalauréat (A level) up to the master in research
(original stamps and signatures) ;
Original translation of these diplomas, validated by a diplomatic or consular officer
(original stamps and signatures) ;
A birth certificate (with certified translation) ;
A certificate of mastery of the written French language ;
A written test of knowledge of the French language will be administered.
Whom do you send your file to?
For any information you may contact the assistant of the Department of Research Anne-Marie Hélary by e-mail or by phone.
NB : Any new registration is subjected to the acceptance of the doctoral student by the director of a research unit and by a thesis director.
Registrations are also subjected to the approval of the Scientific Council of the university, via the ED-355. The files must be finalised by the beginning of October.